Col. Greg Hollister, USAF (Ret.), is a birther with a colorful history of questioning the constitutional legitimacy of presidents. He once accused President Clinton of having "gone to Eastern Europe and participated in communist demonstrations against the Vietnam War while we were at war with communism there." He was the plaintiff in one of Phil Berg's lawsuits, known as Hollister v. Soetoro, filed on Dec. 31, 2008. That case was dismissed by the U.S. District Court in Washington, D.C. (and Hollister's other attorney in the case, John D. Hemenway, was sanctioned with an official reprimand for bringing a frivolous claim before the court). The case was appealed and denied all the way to the Supreme Court, which also denied a Petition for Rehearing. For full information about all the birther lawsuits including this one, see the Birther Case Scorecard (PDF).
Social Security Number Verification System - Falsely Pretending to Be President Obama's Employer

Sometime in late 2010, Col. Hollister apparently pretended to be an employer of President Obama, in order to obtain his Social Security records. He claims he sent a Form 1099 to the president, and then used the Social Security Number Verification System (SSNVS) to obtain a record of the number that President Obama was known to have had since he was 15 years old (and which has been published all over the Internet, particularly by deranged lunatic Orly Taitz).
Hollister did manage to obtain a record from the SSNVS, shown below. It said that President Obama's original Social Security number was "never issued". However, what Col. Hollister did in obtaining that record -- falsely claiming that he was an employer and that President Obama was his employee -- is a crime. For a description of why this is a crime and a good explanation as to why President Obama's original Social Security number has probably been withdrawn and is now officially recorded as "never issued," read this blog entry at Obama Conspiracy Theories.
After viewing the SSNVS record below, continue reading about Col. Hollister impersonating President Obama in order to obtain a copy of his draft (Selective Service) card.
Note that Col. Hollister redacted the phony "Employer's EIN" and the address information showing that the record was mailed to him in Colorado Springs.
Selective Service Registration Card - Falsely Impersonating the President
Next, Col. Hollister contacted the Selective Service, falsely impersonated President Obama, improperly registered his own address as President Obama's address, and by this false impersonation and identity theft he managed to obtain a duplicate registration acknowledgement card with President Obama's Selective Service information on it.
This may violate several federal criminal statutes, and apparently caused the federal record of President Obama's address with the Selective Service to be altered to show that he lives in Colorado Springs, CO.
Hollister then sent the stolen draft card to Orly Taitz, who filed it in federal court. The full duplicate registration acknowledgment is seen below. Col. Hollister redacted the mailing address in an attempt to conceal his involvement in the identity theft. However, unbeknownst to Col. Hollister, there was a POSTNET bar code showing the address to which the card was sent. A selected crop of the duplicate registration acknowledgment shows this: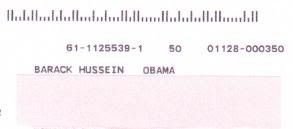 Fogbow member Raicha explains:
Five digit zip: 80908 - this is in Colorado Springs, according to the United States Postal Service
+Plus 4, identifies the neighborhood: 3034.
Googling that neighborhood: 80908-3034, gives you several addresses in the 6700 block of Connaught Drive in Colorado Springs
The last three digits of the POSTNET code are 302, which are a delivery point (30) and a check digit. Typically, the identifier, in this case 30, identifies the specific street number in the neighborhood.
This then identifies the house number: 6730
Google 6730 Connaught Drive, and a public property record pops up for Gregory Hollister.
Hollister was a plaintiff in a birther case (Hollister v. Soetoro) that was dismissed in federal court, unsuccessfully appealed, and denied without comment by the Supreme Court (twice). He is a long-time birther. After he obtained the illicit draft card, he sent it to Orly Taitz. Orly promptly filed the stolen draft card in federal court, and posted about it here.