Sometimes I am a bit doubtful of a basic premise: people tend to be good and tend to do good things, if given half a chance. Then along comes something like this:
Camera captures bystanders rescuing man trapped under burning car
Sociologists talk of the willingness of parents to risk their own lives to save their children; when they die, we call this "altruistic suicide." We see it in the military when a soldier sacrifices his or her life for others. We see it in the actions of these bystanders. We saw it on 9/11 in the faces of the heavily-burdened firefighters making their ways up the stairs of the burning buildings. People will do amazing things. Good things.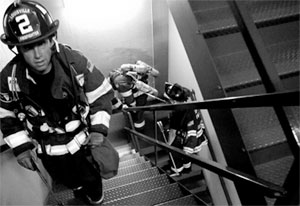 Edit:
ETA:
Reblogged from afirefighterslife
echoelite:
For the 343 that never came home. You are not forgotten…
"If we don't have each other, we have nothing at all."

_________________
"Someone should tell Mrs. Reagan that young people -- not even young people on drugs -- are

not

the ones responsible for the major problems besetting the world!" John Irving,

A Prayer for Owen Meany: A Novel

, p. 370.