Brian wrote:
Random images to pull some characters from below
http://fc02.deviantart.net/fs25/f/2008/ ... imbong.jpg
- You can't use the rooster with the mic. That would be a severe disservice to our own rooster!
http://www.fahad.com/pics/sha3beyat_al_ ... acters.jpg
Possible list of additional characters
Don
Berg
Ed Hale
Lisa Liberi
The Birfers follwers -
http://thumbs.dreamstime.com/thumb_255/ ... iTPaVJ.jpg
I love these, and I had forgotten about deviantart.net as a source; I have several friends with accounts who'd prolly be amenable to letting me use an image or two.
realist
sez
Quote:
The hippo with the camera HAS to be Ed Hale.
Y'know, I have been kicking around a couple of Ed Hale ideas. I'd used Wilford Brimly in one of my prototypes, but was never happy with that, and the camera-hippo just seems too...happy.
I was thinking more along the line of the LOLrus from Icanhascheeseburger.com: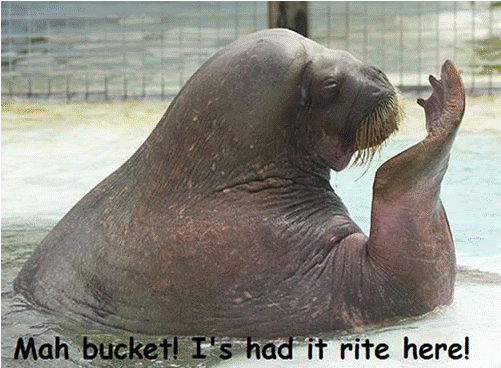 The best part is that there are so many to choose from.