Umm ... I reckon I have a confession to make.
I may be the cause of Zullo coming back on Volin's show this week. I sent another email the day after I started this thread, to invite Volin to read it ...
Mike,
I'd like to thank you again for your reply yesterday. I posted it on my forum under the headline, "Mike Volin says we're the focus of a criminal investigation" and my peeps had great fun with it all day -- there are 86 posts in that thread so far. You can read them here:
viewtopic.php?f=25&t=10182
Just so you understand how much fun they're having, the people who are planning to defend themselves against any criminal charges in court by hiring "an empty chair" are talking about the time Orly had an administrative hearing in Atlanta in Jan. 2012, and nobody showed up for the defendant (President Obama) -- but she still lost. It's not easy losing to an empty chair, but the birthers have proven many times that they can do it if anyone can.
Also, you have to remember that I have a much bigger membership than any birther website on the planet. If you check my Board Index page (go to the top or bottom of any page on the forum, click on Board Index, and scroll down till you see the heading "Who was here?"), you'll see that for yourself. Right this minute it says there were 1,180 users online over the past 24 hours -- 178 registered, 27 hidden and 975 guests.
There are WAY more Obots than there are birthers now. Hidden members are registered, by the way. What that really means is 205 registered members of my forum were online in the past 24 hours, which is about average for us. Tell me where there are 200 birthers still posting online today, willya? That will be a revelation, for sure. You get 205 people in your chat room on the show ever, and 975 guests? You think there are 205 people posting comments on Birther Report or at Orly's shitpit? The birthers aren't just losers now; they're also small timers.
So anyway, that explains some of the other responses from my friends overseas, like Rosy lives in England and Somerset lives in Singapore and rajah lives in Australia and Hektor lives in Canada and RTH10260 lives in Switzerland, though most of the other 200 live right here in the good ol' USA. Naturally, the people in other countries are every bit as terrified of Zullo the Clown as we are here in this great land of ours, which means they're having a good laugh but we all know it's just a fake investigation with fake evidence by a fake cop.
Don't take it personally, what Reality Check said about how you complained last week that the Obots never identify themselves and you complained that we can't discuss the facts, and then you folded like a cheap suit the minute I stepped up to the plate to meet your challenge.
Actually, maybe you should take that one personally. That's exactly what you did, with Zullo the Clown coaching you, no doubt. Zullo is such a joke, such a coward, such a loser. I should think you'd be embarrassed to even associate with a loser like that, but that's the choice you made.
Anyway, thanks again for providing us with a day's entertainment. Birthers are such losers, they've been getting boring lately, but you perked up the crowd and I sincerely appreciate it.
- Bill Bryan
Raleigh, NC
P.S. Say hi to Zullo for me!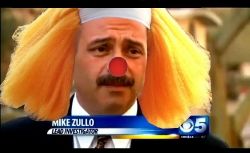 OK, OK, I enjoy taunting birthers. I been doing it for five long years, it's in my blood now.
Anyway, I'm thinking Zullo is gonna get all tough on the Obots tonight. Sadly, I'll be in Durham at a meetup of web freelancers, and won't make it home in time for the show. But somebody call in and remind Zullo that he's NOT A COP.